Dear Family and Friends;
Even before we moved to Scottsdale, AZ, we've been waiting for approval from the city to set up our hangar, so there is a place for the maintenance on the planes to be done and to protect the planes from the harsh effects of the desert sun. We've had to fight against impatience, reminding ourselves that God knows, He is in control, and He has His timing that is best.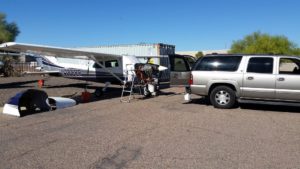 It seems a new opportunity has arisen. A steel building was donated to Camp Yavapines, which is our church camp about two hours north of Scottsdale. Because the city denied the camp a permit to erect the building, they are not able to set up the steel building at the camp. A proposal has been made to trade the canvas structure that was originally February 2017 planned to be our hangar (which would be allowed at the camp), for the steel building. This would suit our needs better since we would have a stronger, permanent structure for AWA's hangar. The details of this trade are currently in the works, but it seems just to make good sense for both parties involved.
On the downside, we will be almost starting from scratch with the City of Scottsdale permit approval process. I know it's only February, but here in the desert, that means that within the next couple of months, temperatures will be rising so much so that it will be difficult for Nik to perform maintenance on the plane without a roof to work under.
We ask for your prayers for God's hand to work in this situation to expedite the process of getting a hangar up for AWA's maintenance base here at Thunderbird campus.
Another project Nik has been working on is getting AWA's aviation fuel truck working again. It has been broken down for over a year. At this time, to get aviation fuel, someone has to drive to Chandler, about 40 minutes from here, to pick up 20 gallons of fuel because we have no way of getting or storing more. These 20 gallons last for about two flights, and then the trip must be made to pick up more fuel. When the truck is functioning again, it will save much time and expense. We are grateful that God is allowing the repairs to be made.
Thank you for your continued support as we go on God's errands.
May God bless you this year as you seek Him,
Nik, Lynette, Devyn, Simon, and Rylan Nagy
Visit Nagy family's page here.