Dear Family and Friends;
We are in Guyana!
It has been two weeks since we arrived. Our direct flight to Georgetown from Miami on Suriname Airways was delayed four and a half hours because of a tire that needed to be changed on the aircraft. Once that was sorted out, we had a smooth trip.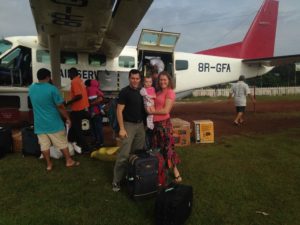 During the delay, before boarding, Darren began talking to a man on the same flight. He was from London and was going to Georgetown to find someone to take care of his sick father. He had grown up as a Seventh-day Adventist but had only recently returned to church. When it finally came time for boarding, the woman who had been assigned the seat next to mine agreed to give up her seat so Darren could sit beside me. Despite a full flight, the open seat beside us was taken by the same gentleman who Darren had been speaking to February 2017 earlier. It seemed more than coincidence that they landed up next to one another again.
Darren was able to encourage him and spoke to him throughout the flight. His son is interested in aviation, and he was very surprised to hear what we're doing. He couldn't believe that an SDA organization has planes doing this kind of work. We pray for divine appointments and look for opportunities to share everywhere we go. Whether it be giving health tips to a taxi driver who has diabetes, talking to the person traveling next to us on the bus (who wants to know what religion we are), or befriending the people in the market who love baby Rosanna, we pray for a marked influence in people's lives.
While exploring a new food store during the first week we spent in the capital, we made another friend. An older gentleman was needing help reading a label on one of the food items in the store. We began talking. Coming from a Hindu background, he has been praying to Jesus and asking Him to show him which way is the Truth. He is in the valley of decision. This man lost his son due to murder. He heavily carries this loss to this day. We were able to spend some meaningful time together, sharing how we can give our burdens to Jesus. We exchanged contact information, and plan to meet again. Just two days ago we received a phone call from him, and we are trying to set up an appointment in Georgetown with him later this week. May the Lord use us to be a blessing in this man's life.
Setting up our new home in Mabaruma has been a challenging process because the little place is quite dusty and requires a lot of work. We are so thankful for space to grow a garden in the future. Since arriving here, we have already been able to enjoy pickings from the fruit trees. We were blessed with a stalk of bananas with more than 50 bananas on it, papaya from the two papaya trees, and other fresh things from the yard. We also look forward to picking the mangoes and coconuts when they are ready. This rented property is centrally located, and not too far from the runway. We heard yesterday that our shipping barrels have arrived in Georgetown from Miami. We're excited to receive them! We pray everything will make it through customs without any unforeseen costs, and that we can get the goods onto a boat heading to Mabaruma soon. There are no roads, so what can't be flown must go across the waters.
Darren did a test flight two days ago. Since the plane has been sitting for a few months, there were a few minor things requiring attention. Apart from updating the GPS, it is ready to go. We've received our first request for a flight taking place on Monday to a nearby runway called Matthew's Ridge. We are so thankful to everyone who has given to make this work possible. Without you, we would not be here.
May the Lord richly bless you!
Much love, Darren, Joanne & Rosanna
Visit Lea family's page here.